This is the website for the 2021 edition of the Subtillery Virtual International Conference—the second Subtillery conference. Subtillery is a free, virtual conference for the global scientific community using Bacillus subtilis and other related spore-forming bacterial model systems.
The conference was originally conceived by Prah Eswara in 2020 to fill the void of pandemic-related meeting cancellations, which have continued throughout 2021. Hence we are pleased to offer the next edition here in 2021. Because of the great response to this virtual conference, and our ability to offer it free of charge to researchers worldwide, we intend to offer this conference going forward, although future editions may be biennial.
Subtillery 2021 will take place June 14-18, 2021 between 9:45 AM and 1:35 PM US Eastern Daylight Time using Zoom. Here is a brief table of the start times in different global time zones.
Los Angeles, USA

6:45am

Chicago, USA

8:45am

Washington DC, USA

9:45am

Brasilia, Brazil

10:45am

London, UK

2:45pm

Paris, France

3:45pm

New Delhi, India

7:15pm

Beijing, China

9:45pm

Tokyo, Japan

10:45pm

Canberra, Australia

11:45pm
We plan to have 40 trainee talks scheduled between June 14 and June 18, 2021 (10am-1:35pm US Eastern Time). Following our pattern from 2020, the following is the tentative daily schedule:
10:00-10:25 - talk 1
10:25-10:50 - talk 2
10:50-11:15 - talk 3
11:15-11:40 - talk 4
11:40-11:55 - break
11:55-12:20 - talk 5
12:20-12:45 - talk 6
12:45-13:10 - talk 7
13:10-13:35 - talk 8
The 2021 conference is being co-chaired by Dr. Emma Denham (University of Bath, UK) and Dr. Matthew Cabeen (Oklahoma State University, USA).
The Scientific Committee includes:
Natalie Bamford | University of Dundee
Carla Bonilla | Gonzaga University
Niels Bradshaw | Brandeis University
Jennifer Herman | Texas A&M University
Anna Dragos | University of Ljubljana
Anna McLoon | Siena College
Tjeerd Rij-van | DSM
Diego Romero | University of Malaga
Henrik Strahl | Newcastle University
Registration for the meeting is open now through June 1, 2021. Please register by completing the online registration form. We look forward to seeing you at Subtillery 2021!
Additional information about this year's programme will be featured here on this website as it becomes available.
---
Speakers at this meeting must be trainees (typically graduate students or postdocs; no group leaders), and talks will be selected from submitted abstracts by the scientific committee.
The deadline for abstract submissions is May 7, 2021. We apologise that abstracts received after that date cannot be considered. To submit an abstract, click here. (Abstract upload requires Google sign-in.)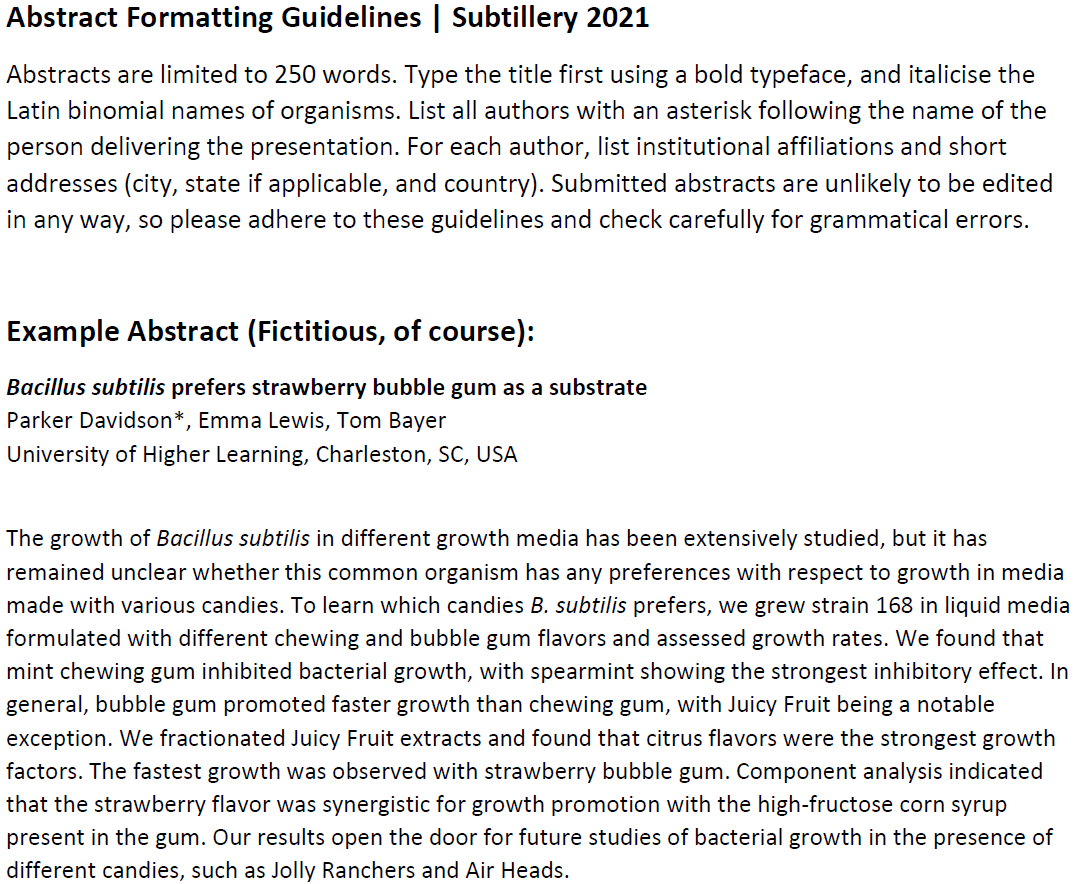 We are grateful to BACIP, this year's sponsor for speaker awards.